Tools We Use and Love
If you want your business marketing strategy to be effective, you'll need to invest in the right tools for the job. Get an inside view into the tools we use and love here at Social Webz!
Are you ready to level up your social game?
Want an easy and effective invoicing and accounting system?
Do you need an effective, yet easy data analytics reporting tool?
Maybe a proven company for business credit needs?
Our Recommendations Are Based On Experience
We don't recommend any products that we don't use. All of these listed below are either ones we use currently or have used in the past with good results. Try them and see for yourself!
Dreamhost Web Hosting & More
Dreamhost is the web hosting platform of choice for us here at Social Webz. We have partnered with them for years and have found them to be reasonably priced, trustworthy, and they feature an amazing customer support network. When you need hosting, domain names, email services, and more, you can trust Dreamhost! We highly recommend them.
They offer dedicated servers, cloud servers, VPS services, and so much more. If you are in need of a great hosting service, well, you've just found it.
Web & Social Media Analytics
We rely heavily on Agency Analytics to provide key data and numbers analytics for our clients. It's an easy, yet comprehensive system that allows you and/or your clients to get real-time reporting of their advertising, website, and social media numbers and more.
You can create custom tracking dashboards to keep up with your SEO, PPC, Social, Email, Reviews, and Call Tracking data. If your company uses multiple online platforms, or you are an agency looking for an easy solution to reporting data for your clients, we highly recommend Agency Analytics. Be sure to use the coupon code AA_PARTNER_109667 to receive 50% off of your first month!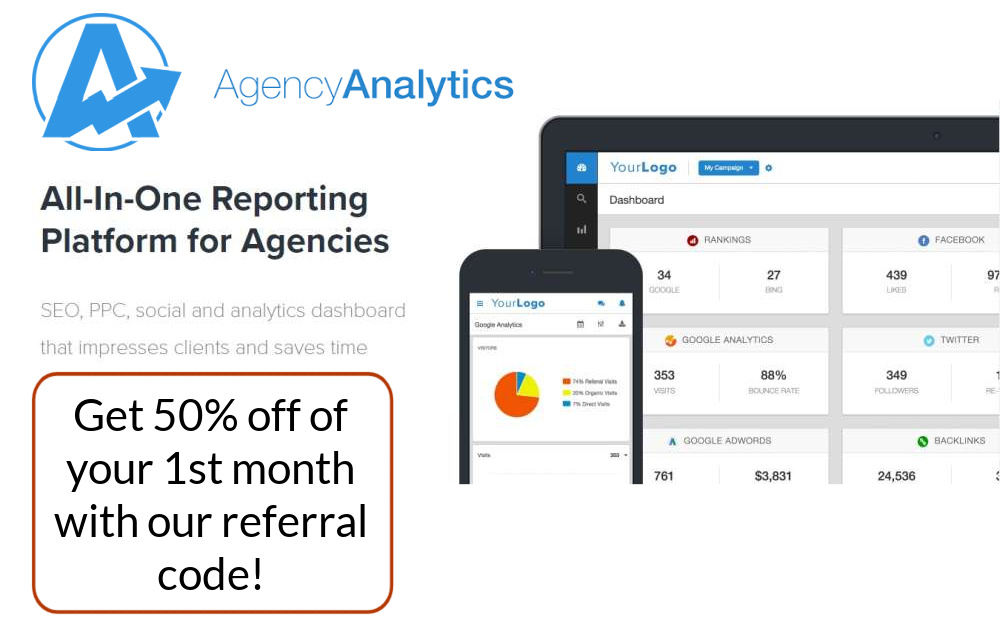 Capital One Credit
Here at Social Webz, we use Capital One credit cards for our credit needs. They have been one of the best experiences we have had with credit companies and we highly recommend that you consider taking a look at all of the credit options (both business and personal) that Capital One has to offer.
They offer cashback rewards, travel rewards, as well as offers to build your credit score if you have had issues with your credit in the past.
What if I don't want to learn these tools?
Maybe you don't want to learn these tools, or mayby you simply don't have the time. That's where Social Webz comes in! We offer multiple social media and online advertising services designed to fit your needs.
Content Management
Don't have time to monitor and/or post to your social media platforms? Discover if our Social Media Management Services are right for you! 
Online Advertising
Whether you want to be seen on Facebook, Instagram, Google or other social media platforms, we have a package that is sure to fit your needs. No matter how small or large!
Web Development
Websites starting as low as $79 per month! Professional and affordable. We also offer logos and digital graphic design on an as needed basis. View our portfolio here.